Thursday, October 21, 2010
Posted by Michael Knutson in "HP Slate" @ 10:00 PM
"Nope, you're not dreaming, but feel free to pinch yourself, rub your eyes or take a cold shower! You've read right -- the HP Slate is finally official, and after all the teasing, back and forth, and (very recent) leaks, the Atom-powered, Windows 7 Slate will finally see the light of day -- though in a different way than originally intended."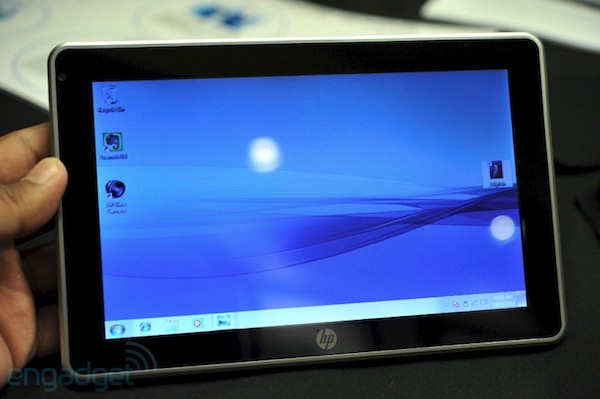 The long-awaited HP Slate may be available soon, starting at $799. At 1.5-pounds (0.68kg), the Slate sports an 8.9-inch capacitive screen at 1024x600 resolution, 1.86GHz Intel Atom Z540 processor, 2GB of RAM, 64GB SSD, Broadcom Crystal HD accelerator for 1080p video, Windows 7 Professional, a Wacom active digitizer, front-facing VGA camera, and a 3MP back camera. Also a USB port, and a CONTROL + ALT + DELETE key, vital for Windows. With a rubberized back and metal edges, it has a very substantial feel, but still, some quirks, like a slide-out Windows license, and a digitizer, but no place on the Slate to hold the included stylus. This is intended for business and enterprise users, so no additional touch layers, tweaks or skins, but we expect that it will be available for consumer purchase from HP. No information on availability other than that it'll be released in the U.S. first, with other markets to be evaluated. A bit smaller than the iPad, it should run -business software- (like Microsoft Office) that is lacking on other tablets. Looks pretty good to me, but I do wonder about battery life.
EDIT: 22 OCT 2010. I just ordered an HP Slate 500 from HP's Online Store. Expected ship date is 12 NOV 2010. I can't wait!
---