Friday, August 13, 2010
Posted by Michael Knutson in "Dell Streak" @ 08:00 AM
"We fit the whole world into a 5-inch screen. Introducing the Dell Streak. The perfectly-sized, go-anywhere entertainment, social connection and navigation device."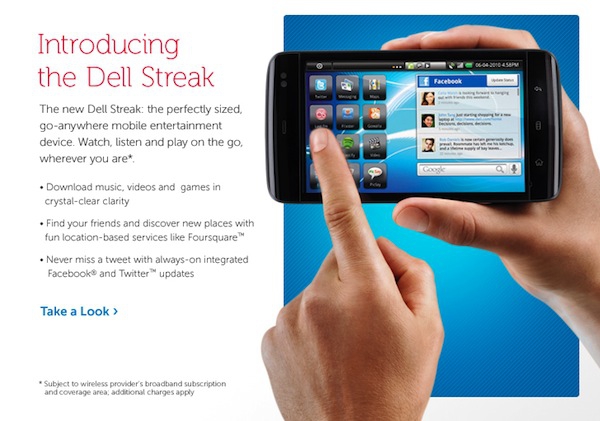 The ordering process is open today for "pre-registered" users, and begins tomorrow (14-Aug-2010) for everyone else. Prices start at $299.99 USD with AT&T two-year contract activation, or $549.99 USD without a contract and without accessories. The Streak can be purchased without a contract. The voice plans start at $39.99 USD monthly for 450 "w/Rollover" minutes, the data plans start at $15.00 USD monthly for 200MB of data, and the 2GB plan will cost $25.00 USD monthly. No unlimited data plans are available on new contracts.
Reviews on Dell's site are mostly from UK users, but are generally positive. Plusses include Web browsing, the high quantity and quality of Android apps and screen size and clarity; minuses mostly surround battery life, the old Android version (1.6), and speaker quality. There are also lots of comments about this device being perfect in size between an iPhone and an iPad, and lots of comments from "switchers." Can't wait for some more local reviews to start appearing!
---