Thursday, June 23, 2011
Posted by Jason Dunn in "Archos Tablets" @ 11:15 AM
"DENVER, CO - June 23, 2011 - Today, ARCHOS, an award winning technology innovator and pioneer in the tablet market, introduces an unrivaled combination of speed and storage with its latest tablets featuring an OMAP 4 processor with an ARM® CortexTM dual-core A9 running at 1.5 GHz and Seagate's 250GB Hard Disk Drive (HDD) capacity. The 8" ARCHOS 80 G9 and 10" ARCHOS 101 G9 are powered by AndroidTM 3.1 "Honeycomb,''* the latest Android version. ARCHOS G9 tablets come with Google's full suite of mobile applications and Android MarketTM, giving users access to over 200,000 applications such as games, books, social media and news. With the latest version of Honeycomb, G9 tablets also offer a full web experience complete with Adobe® Flash® support for on-the-go web browsing, communication and applications."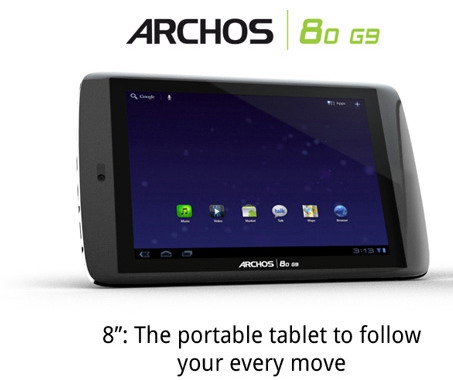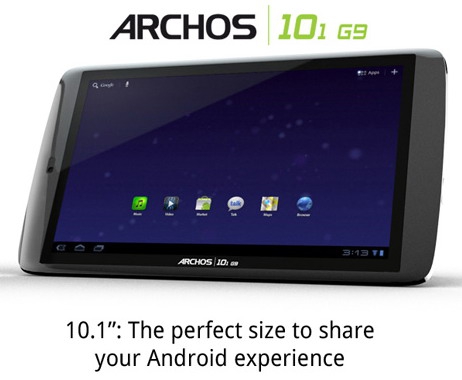 I've always admired Archos hardware; it's historically been great. But what kept me from ever buying one of their products was the user interface. I found it baffling. Now that Archos has fully embraced Android though, I think they can be a real player in the tablet market. Archos made an interesting call in making the screen on the 8" tablet a 4:3 aspect ratio, 1024 x 768 resolution display. On the 10.1" tablet, it's a 16:9, 1280 x 800 display. I think that makes a lot of sense, and I'm personally intrigued by the eight inch tablet. Oh, and remember these tablets have 250 GB of storage in them courtesy of Seagate's new 7mm hard drive. Specs and details below, along with news about their clever 3G stick that apparently slides into the tablet unobtrusively.
The remainder of the press release is after the break. Read more...
---