Friday, December 23, 2011
Posted by Don Tolson in "Other Slates & Tablets" @ 08:30 AM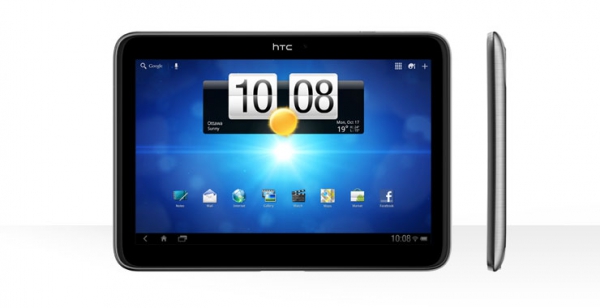 Product Category: Tablet
Manufacturer: HTC
Price: USD $499 w/3 year contract, $799 w/o contract from Rogers; $599 with w/2 year contract, $749 w/o contract from AT&T
System Requirements: Android 3.1 (Honeycomb) with HTC Sense
Specifications: 256mm (10.1in diagonal) LCD tablet with 1.5GHz, dual core CPU; 1G RAM; Quad band GPRS, Tri-band HPSA + LTE; 32G internal memory (28G available) + microSD card slot (32G maximum); 250mm (9.87in) x 178mm (7in) x 13mm (0.5in); 750g (26.5oz). Full specifications can be found here.
Pros:
First LTE-capable tablet available in Canada;
Very comfortable size and weight;
Cons:
Pricey compared to other tablet offerings available;
Yet another non-standard charging/sync port.
Summary: In October 2011, with much fanfare, Rogers announced the availability of the HTC Jetstream (aka the HTC P715a) -- Canada's first LTE-capable tablet. Even though the LTE network is limited to three cities in Canada (Montreal, Toronto and Vancouver) we were able to get one of the preview units and play with it for a week in Victoria and Vancouver! So, does an LTE-equipped tablet run circles around mere 3G/H models? The results were surprising. Read more...
---