Wednesday, February 16, 2011
Posted by Hooch Tan in "Laptop Thoughts News" @ 04:00 PM
"If you'll recall, we mentioned ViewSonic had a couple of devices in production, such as the ViewPad 4 and the V350 and it looks like the MWC showcase indicates that they have almost reached fruition. ViewSonic's appearance at MWC brought along the impressive duo with a new and fresh perspective."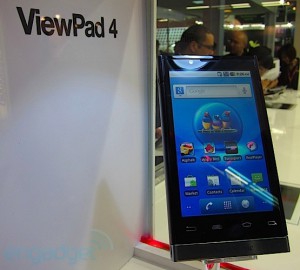 I remember when ViewSonic used to make monitors. I think they still do. However, their two recent offerings, the ViewPad 4 and ViewSonic V350 (and how, exactly, do they come up with these names?) look like decent products. What has caught my interest is the dual-SIM nature of the V350. Yes, there are other devices that offer dual-SIMs but they are still relatively rare in Canada. The nature of our wireless market means that most mobile phone hardware we buy is locked into a specific carrier, so the thought of dual-SIMs and its implied multi-carrier status means that either Canada will only see this through importers, or a castrated version will appear.
One other trend I have noticed though, is with the number of Android phones growing faster than bunnies in Australia, I am getting really frustrated with the "universal" accessories market. There are plenty of accessories for iPhones, Blackberries and extremely popular Android devices, but if you have anything else, you have to settle with car mounts that wiggle, or non-existent docking stations. Does anyone know of a store out there that sells accessories for less popular gadgets?
---