Thursday, November 11, 2010
Posted by Jason Dunn in "Laptop Thoughts Talk" @ 08:00 AM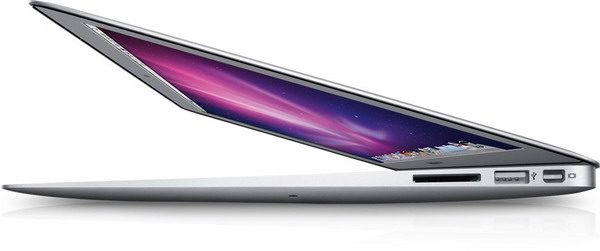 OK readers, here's the deal: I'm on the hunt for a new laptop, and I have certain specs that I want the laptop to have. Shockingly, the new 13.3" Macbook Air seems to come closest to the mark...but, given a choice, I'd prefer to not give Apple more of my money. I have no plans to run OS X regularly on it, so something that's built specifically for Windows 7 is more to my liking (rather than using Boot Camp on the Air).
What's most appealing to me about the hardware on the Macbook Air? The 13.3" screen running at 1440 x 900 resolution is #1 with a bullet. That's a great resolution for a thin and light notebook, yet it's extremely difficult to find in any product - most Dell consumer laptops for instance go from 1280 x 720 up to 1920 x 1080, which is a massive jump. You either end up with a low res or ultra-high res image; some of their 13.3" laptops have 1366 x 768 resolution, but not in their consumer line. Even the brand new Dell XPS 14 tops out at 1280 x 720 resolution. It's like Dell doesn't understand the concept that some of us want to have a decent resolution on our laptops. It's hard not to like the seven hours of battery life with the Macbook Air, and I'd be lying if I said that the thin and light hardware wasn't also appealing.
I have a Dell Vostro V13 right now, and while there's a lot that I like about it (review here), the underpowered CPU (the Core 2 Duo SU7300 clocks in at 1.3 Ghz), the limited battery life (three hours on a good day), and the anaemic GPU have got me a little fed up. The 13.3" screen at 1366 x 768 is pretty good, but the bump up to 1440 x 900 would be even better. I've looked at every Dell laptop I can find and nothing quite seems to match up.
What I'm looking for in a new thin and light laptop:
13.3" or 14" screen with 1440 x 900 resolution (maybe 1366 x 768)
A Core 2 Duo or better CPU at 1.8+ Ghz (2+ Ghz is even better)
Minimum 4 GB RAM
5+ hours of battery life
256 MB SSD, though I'd be willing to swap in a Segate hybrid drive in a pinch if no SSD option was available
Reasonably thin profile, not too heavy
Optical drive optional
Decent GPU (something other than Intel graphics basically)
Something that doesn't have a truly ugly design - sadly, that means the HP Envy 14 is off the list because it has a stupid floral pattern on it...however, I *might* just cover up an ugly laptop with a DecalGirl skin. I'd prefer not to though!
Price? Well, the 13.3" Macbook Air, upgraded with a 2.13GHz Intel Core 2 Duo, 4GB RAM, and 256GB of Flash Storage, would run me $1849 CAD. So let's say that's the basic dollar amount I want to stay around.
What laptops out there today should I be looking at? The Sony Vaio Z series looks close, but strangely when I go into a custom config, the only resolution option is 1920 x 1080...on a 13.1 inch screen? Are you insane Sony?
---