Tuesday, October 11, 2011
Posted by Jason Dunn in "Asus Laptops & Netbooks" @ 02:05 PM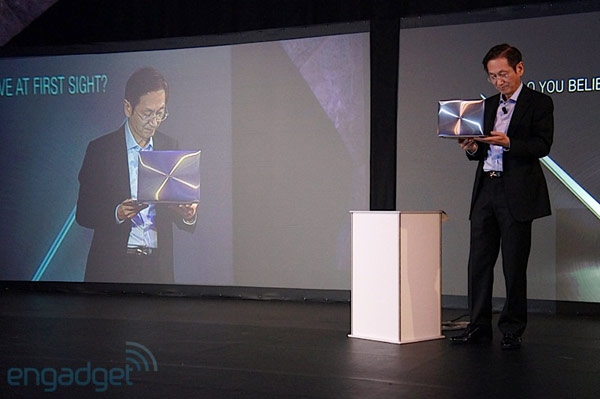 Now dubbed the "ZENBOOK", the much-anticipated UX21 and UX31 ultrabooks are coming very soon - as in, available for order tomorrow. Woot! I'm really excited about this personally, because I've been looking for a new laptop for quite a long time now. The UX31 looks like it's exactly what I'm looking for, though I'm reluctant to drop $1500 on one until I read a review or two. Asus has a good track record with recent laptops, so I'm cautiously optimistic this will be a solid product. What about you? Are you getting an ultrabook?
Full press release after the break.
Manhattan, New York (October 11, 2011) - ASUS Chairman Jonney Shih unveiled the long-anticipated ZENBOOKTM that fuses masterpiece design and incredible performance at a global launch event in New York along with Intel Senior Vice President and General Manager of Sales and Marketing Group, Tom Kilroy. The "Ultra Era" event opened with a vivid, yet tranquil dance to Moon Water featuring a performance artist from the internationally renowned Cloud Gate Dance Theatre of Taiwan. The performance set the tone of the event, to display that the ASUS ZENBOOKTM is designed to be effortlessly enjoyable without compromising on performance. It exudes the perfect balance of elegance and power in an Ultrabook.
Mr. Shih then introduced four key incredible principles that guided ASUS' development team during the ZENBOOKTM design phase.
Pure Design - Art melds seamlessly with technology upon viewing the ASUS ZENBOOKTM. The silver exterior panel features a concentric circle design that refracts a halo of light that excites the senses. With a thickness of 0.11" at the front and 0.67" at the rear, the ZENBOOKTM UX21 exterior lines are sleek, making it the thinnest Ultrabook on the market and perfect for users constantly on-the-go, in the classroom or relaxing at home.
Unrivalled Performance - The ZENBOOKTM is designed with an instant-on feature that resumes the system in about 2 seconds* and features incredible standby times up to ten days*, which is four times more than the industry standard. Although svelte and sleek, the ZENBOOKTM packs an impressive and uncompromising list of technological breakthroughs. It uses the latest Intel® 2nd generation CoreTM processors (optimized for mobile use), SATA Revision 3.0 solid state storage (SSD), BluetoothTM V4.0 and USB 3.0. ASUS has also added USB Charger+ technology, which uses the powered USB 3.0 port to recharge portable devices in a fraction of the time it would normally take. To accommodate all of these technologies, ASUS engineers designed custom cooling technology using a V-shaped channel with a unique copper fin design for improved airflow and cooling. When battery life dips below 5 percent, the ZENBOOKTM will automatically save files in progress to prevent data loss.
Incredibly Green - The ZENBOOKTM provides its users a peace of mind in knowing that they are consuming less energy. It utilizes ASUS' patented Super Hybrid Engine II technology, which intelligently conserves battery life and allows the ZENBOOKTM to have up to 25% more battery life* than other Ultrabook designs.
Transcending Audio - Recognizing that an Ultrabook is not only a tool for work, but also for entertainment, each ZENBOOKTM is equipped with ASUS SonicMaster technology, an optimized fusion of hardware and software developed by the ASUS Golden Ear team and Bang & Olufsen ICEpower®. SonicMaster provides a wide sonic spectrum surround sound that can fill a room with smooth jazz or the tranquil sound of a mountain stream.
Leading Technology Partnership - Intel's Senior Vice President and General Manager of Sales and Marketing Group, Tom Kilroy, expressed his excitement that Intel contributed the incredible processor technology for ASUS's groundbreaking masterpiece.
"Today's introduction of ASUS ZENBOOKTM is a vivid proof that Ultrabooks are ushering in a fundamental transformation of personal computing," said Mr. Kilroy. "In the few months since Intel first unveiled this new type of device, ASUS has delivered an amazingly light design powered by the visibly smart performance of the second generation Intel Core i7 and Core i5 processors. It's packed with the security, responsiveness, and other exciting features, that deliver on the promise of the Ultrabook, to offer the most complete and satisfying computing experience."
The ZENBOOKTM will be available for order in North America starting on Oct. 12, with prices starting at $999 (suggested MSRP).
---