Friday, September 9, 2011
Posted by Jason Dunn in "Samsung Laptops & Netbooks" @ 08:00 AM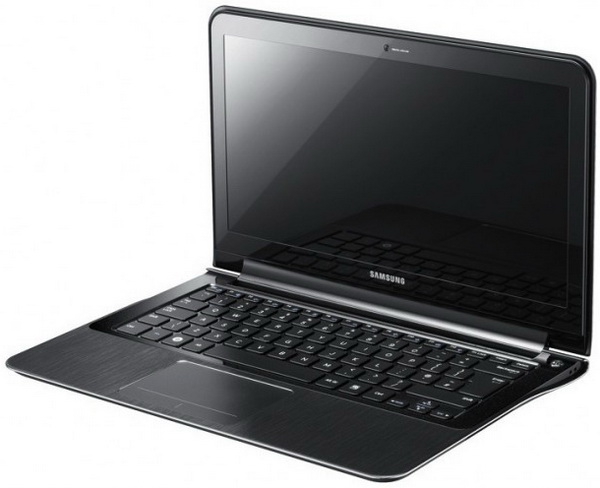 Samsung's Series 9 laptop (here's my unboxing) presents the most serious challenge to the success of the Macbook Air thus far - as long as you're not one of those people who has to run OS X. As someone who ran Windows 7 on a Macbook Air for two weeks, I can say that while it's workable, there are enough differences with the keyboard that it can be hard to adjust. Given a couple of months, I probably could have made the shift, but when I started using the Series 9, there was no need to adapt: I could type normally (well, except for that ridiculous tiny left shift key) and the size/weight on the Series 9 felt virtually identical to the Macbook Air I had.
Spec-wise, this version of the Series 9 features an Intel Core i5 2537M CPU at 1.4 Ghz (3 MB cache), 8 GB of DDR3 RAM, a 256 GB SSD, and an Intel GMA HD GPU. The 13.3 inch screen is matte and 1366 x 768 in resolution. There are two 3 watt speakers and SRS 3D sound. The webcam is 1.3 megapixels, and there's a single microphone under the screen. In addition to 802.11a/b/g/n and Bluetooth 3.0, there's a dongle that, when attached to the side, adds Gigabit Ethernet. Video output is solely mini HDMI (no adaptor is included in the box unfortunately), and in addition to a microphone/headphone jack, there one USB 3.0 port and one USB 2.0 port (one is an always-on charging port). The laptop has an internal, non-removable 6 cell (40 wHR) battery. The laptop is 2.88 pounds (1.31 kg) and measures 12.9" wide, 8.9" deep, and between 0.62" and 0.64" thick from front to back.
Click on the video title above to watch it on YouTube in 1080p full-screen mode.
It's been interesting to watch the shift in pricing since this was released; the review model I have here originally came out at $2499 CAD. A similar, though slightly lower-spec model (4 GB RAM, 128 GB SSD) is only $1299 from CompUSA. Things change fast in this industry! Samsung seems to have a problem with their retail channel though; I can't find any place to buy this version in Canada. You can have the best laptop in the world, but if you can't convince your retail and channel partners to sell your product, it doesn't matter. I'm frankly kind of baffled as to why Samsung doesn't have their own online store for their laptops.

Performance-wise, the Series 9 is no slouch - even at only 1.4 Ghz, the second-gen Core i5 processor packs a lot of punch (being able to turbo to 2.4 Ghz sure helps). The Core i7 version would doubtless be even more impressive. It's worth calling out the insane performance boost that Intel's QuickSync technology offers if you have software that can leverage it. I used CyberLink's Media Espresso software to transcode a 2 minute 22 second 1080p WMV movie trailer to an iPad h.264 file. With QuickSync turned off, the conversion took 2 minutes 18 seconds (basically real-time). With QuickSync turned on, it finished in 1 minute 9 seconds. That's twice as fast for the math-challenged. Awesome stuff! It's even better with standard definition content; a 20 minute VOB file from a DVD converted to an iPad h.264 file took 5 minutes 55 seconds with QuickSync turned off. QuickSync on? A stunning 1 minute 19 seconds - that's roughly 20x real-time. Oh, and QuickSync drops CPU usage from 80% during the conversion down to 25%, so you're saving battery life as well. If only Media Espresso had a DVD ripping option...I'd be in heaven!
Battery life is impressive; my punishing Lord of the Rings Extended Edition test, where the screen is set to 100% brightness, had the Series 9 finishing the 2 hour 51 minute 2.64 file format movie (which many laptops can't do) and still having 27% battery life left. That's excellent. I discuss battery life tests in the review, but with screen brightness at 50%, you should see a solid 5 hours of non-stop Web browsing. That's not as impressive as the Macbook Air on OS X hitting 7 hours, but OS X appears to be much more power-friendly than Windows. It pains me to write that - I really hope Microsoft improves the power-friendliness of Windows 8.
Click on the video title above to watch it on YouTube in 1080p full-screen mode.
There have been some impressive Intel ultrabooks announced recently, so my suggestion is to wait 30 to 60 days if you can and see what's in the market. I have a feeling Samsung will be shifting the price of the high-end Series 9 configuration yet again. With the top-end Macbook Air 13 having a 256 GB SSD and a 1.8 Ghz Core i7 CPU and ringing in at $1699 CAD, Samsung will have to respond.
Bottom line? The Samsung Series 9 laptop is a sleek, powerful computer that, while pricey, offers tremendous value for the kind of buyer that wants the near-perfect blend of power and slender size.
Jason Dunn owns and operates Thoughts Media Inc., a company dedicated to creating the best in online communities. He enjoys photography, mobile devices, blogging, digital media content creation/editing, and pretty much all technology. He lives in Calgary, Alberta, Canada with his lovely wife, his wonderful son Logan, and his sometimes obedient dog. He just might buy one of these...but he's not sure.

Do you enjoy using new hardware, software and accessories, then sharing your experience with others? Then join us on the Thoughts Media Review Team! We're looking for individuals who find it fun to test new gear and give their honest opinions about the experience. It's a volunteer role with some great perks. Interested? Then click here for more information.

---