Thursday, March 10, 2011
Posted by Jason Dunn in "Samsung Laptops & Netbooks" @ 08:00 AM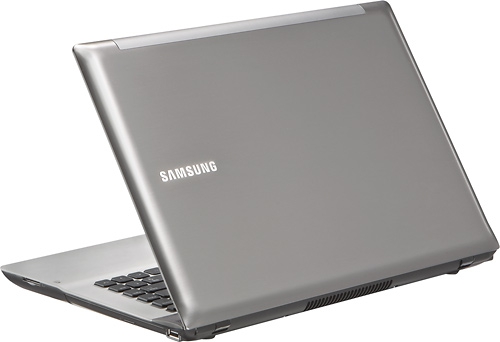 This is my review video of the Samsung QX410-J01 (you can check out my unboxing and first impressions here). The QX410 has a 14 inch screen, running at a disappointing 1366 x 768 resolution (1440 x 900 is my ideal resolution at 13 to 14 inches). It packs a lot of power in the CPU/GPU department: it uses an Intel Core i5 CPU running at 2.53 Ghz with turbo boost up to 2.8 Ghz. It has an NVIDIA GeForce 310M GPU with 512 MB of dedicated RAM. Other hardware includes 4 GB of DDR3 RAM, a 640 GB 5400rpm hard drive, a DVD/CD burner, gigabit Ethernet port, memory card reader (SD), 802.11b/g/n WiFi, Bluetooth, a Webcam with built-in microphone, HDMI output. The laptop runs Windows 7 Home Premium 64-bit.
The materials of the laptop are impressive though - the lid is a brushed aluminium and the overall feel of the materials is one of quality. It's not quite at the level of a Macbook Air/Pro, but it's close.
Samsung claims the internal battery on the QX410 will deliver up to seven hours of battery life - real-world tests doing continued Web browsing at 50% screen brightness put it at just under six hours, which is quite impressive given the CPU and screen size of this machine.
It's a shame Samsung didn't give it a 7200 RPM hard drive, but if you're looking for a performance boost an SSD would take it to the next level - and if you can get by with 120 GB of storage, the price is no longer outrageous.
Closing thoughts on the Samsung QX410? If you're looking for a sub-$1000 laptop that packs significant CPU and GPU prowess with solid battery life and looks good doing it, this laptop is worth a look. It's not a thin and light as many other products out there, but the cost is reasonable and the mix of power and portability may be exactly what you're looking for.
Jason Dunn owns and operates Thoughts Media Inc., a company dedicated to creating the best in online communities. He enjoys photography, mobile devices, blogging, digital media content creation/editing, and pretty much all technology. He lives in Calgary, Alberta, Canada with his lovely wife, his wonderful son Logan, and his sometimes obedient dog. He's still searching for a laptop that doesn't feel like an excessive compromise.

Do you enjoy using new hardware, software and accessories, then sharing your experience with others? Then join us on the Thoughts Media Review Team! We're looking for individuals who find it fun to test new gear and give their honest opinions about the experience. It's a volunteer role with some great perks. Interested? Then click here for more information.

---