Monday, June 4, 2012
Posted by Michael Knutson in "Asus Laptops & Netbooks" @ 11:30 PM
"Every once in a while a product comes along which gracefully solves a social problem through technical innovation. Often, you want to show a piece of content — a presentation, a website or maybe even a video — to just one or two people, but you don't want them starting over your shoulder to look at your laptop screen and you don't want them to see the IM that popped up from your wife while you were shooting through that PowerPoint deck."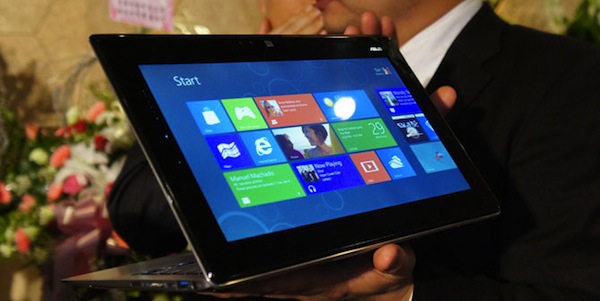 Interesting concept that ASUS is previewing, a Windows 8 Ultrabook that is also a Windows 8 touchscreen tablet. Two screens, each with 1920x1080 resolution. The Ultrabooks will be offered in two sizes: 11.6-inches and 13-inches, both with aluminum chassis. The screens can be mirrored, or run separately, and the "inside" screen apparently has a small window showing what the exterior screen shows. So you can be showing someone a PowerPoint presentation or a video on the outside, while checking email on the inside.
Very little else is known today, other than thin and solid appearance, Intel Ivy Bridge Core processors, and SSD, as journalists were allowed to look but not touch. Looks like "the best of both worlds" may be an option combining keyboard and touch on two screens in an Ultrabook. Metro on the outside touch screen, and desktop on the inside? I haven't been able to garner much enthusiasm for Windows 8 on a "regular" laptop, but this form factor may be a game changer.
A closer look (from Time.com)
---