Wednesday, June 16, 2010
Posted by Jason Dunn in "Laptop Thoughts Talk" @ 03:28 PM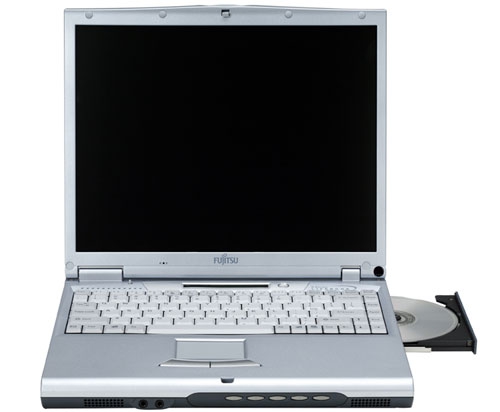 My first laptop was a Fujitsu Lifebook E-Series; an E-6575 to be exact. Above is a photo of a 6000 series model that's very close to what I had. I wasn't sure if I had any photos of it - I bought it back in 2001, almost a decade ago (boy, that makes me feel old) - but I scoured the archives of my photos and discovered one image...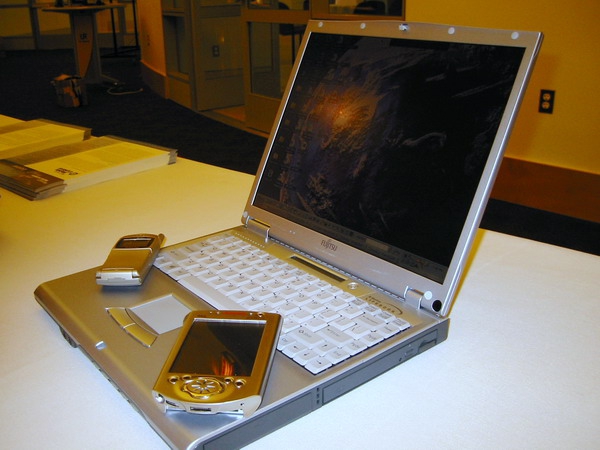 Look at that beauty! Note the equally old Compaq iPaq Pocket PC and Sprint flip-phone also on the shot. I purchased the Lifebook from one of the few Fujitsu resellers in Calgary at the time...a little company called Voodoo Computers. If memory serves, I paid around $2500 for it, and I bought it in preparation for the Microsoft Mobile Experience Tour. Specs on this then-cutting edge machine included a 14.1 inch screen, 1.2 Ghz Pentium III M CPU, 256 MB of RAM, and a 30 GB hard drive. WiFi? Only via a PCMCIA card. Bluetooth? I'd don't think I'd heard of it back then. The Lifebook weighed in at a hefty 6.5 pounds, and lasted about 2.5 hours on a single charge. But the really cool thing about this laptop was the fact that it could host a second battery!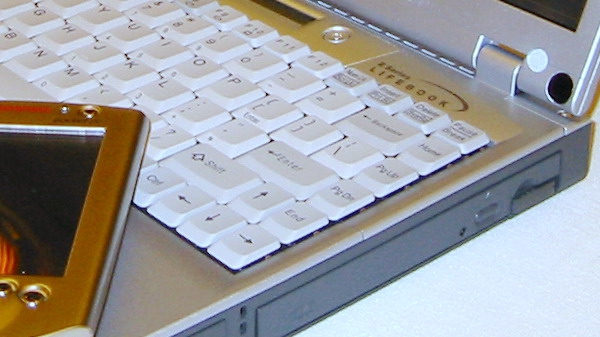 Above is a closer shot of the battery/drive bay. You could pop out the optical drive bay and put in a second battery - bringing your run time up to a then-awesome 4.5 hours. I have to roll my eyes a little at laptops today that only offer one battery option - my second laptop had a secondary battery bay, and so did my third laptop. It wasn't until my fourth laptop that I had to give up on having a secondary battery, which was frustrating after having gotten used to amazing battery time.
I have a lot of fond memories of that laptop - I took it with me to 11 different cities across the USA, and used it for several years after that. It's still in the family - I sold it to my parents when I wanted to upgrade to something new. Now that I've waxed nostalgic about it, I think I might ask for it back and keep it in my technology archives collection. My son will laugh at what was cutting-edge technology back in 2001 when I buy him his first laptop-like device around 2027. Actually, that's a good idea for another post - what laptops will be like, or if they'll even exist, by that point in time.
What was your first a laptop? Tell me about it, and what it meant to you.
Jason Dunn owns and operates Thoughts Media Inc., a company dedicated to creating the best in online communities. He enjoys photography, mobile devices, blogging, digital media content creation/editing, and pretty much all technology. He lives in Calgary, Alberta, Canada with his lovely wife, his wonderful son, and his sometimes obedient dog. He wishes more laptops had the ability to accept a second battery.

Do you enjoy using new hardware, software and accessories, then sharing your experience with others? Then join us on the Thoughts Media Review Team! We're looking for individuals who find it fun to test new gear and give their honest opinions about the experience. It's a volunteer role with some great perks. Interested? Then click here for more information.

---