Friday, December 23, 2011
Posted by Don Tolson in "Other Slates & Tablets" @ 08:30 AM
Screen
The screen on the Jetstream is what now seems to becoming the standard 10.1 inches (diagonal measure), with a resolution of 1280x800 and capable of displaying over 16 million colours. HTC describes this as a "Super LCD screen" (I think they're referring to the SuperTwist LCD technology) providing smooth, consistent touchscreen capabilities which provides good response to finger gestures. (Sorry, I couldn't find any apps to really test multi-touch capabilities.)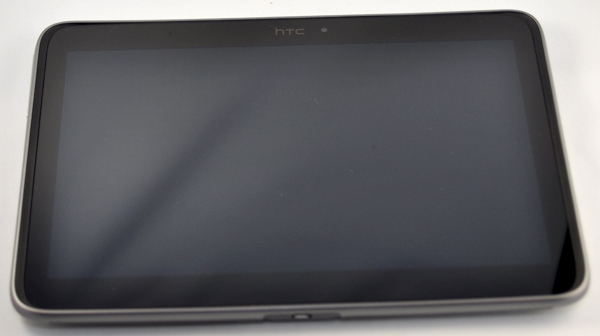 Figure 8: Here's that promised front screen shot of the HTC Jetstream. The screen surface is extremely glossy so it was difficult to get a 'clear' shot and fingerprints show up very readily. You can just see the microUSB port on the bottom edge. At the top of the screen, just to the right of the HTC logo, is the 1.3 mp front-facing screen, which you can use for video conferencing, etc.
Generally, the screen was bright and the colours were well saturated. In outdoor tests , there didn't seem to be enough brightness or contrast to make it comfortable for regular use, especially in medium to bright sunshine. It worked just fine indoors, however.
O/S
The Jetstream comes with Android 3.1 (Honeycomb) installed, with HTC's Sense overlay/interface. I've been watching Sense develop from its earliest incarnations on Windows Mobile 6.5 and it's come a long way. Generally, the interface was very smooth and responded well to touch input. Rogers' main screen interface provides a wide variety of options and widgets for various things to do but, for me, it was just too cluttered and busy. It would have been better for them to group things together a little more coherently. (I wish I could find a screenshot tool for Android that did not require the device to be 'rooted' so I could show you what I mean.)
Overall, the O/S fits in well with the Jetstream, and screen to screen movement and responsiveness was fluid and consistent. There were a couple of times when the system seemed to 'lock up' and not respond to taps or swipes for a couple of seconds, but soon things were back on track. I didn't encounter any situations where I needed to reset or reboot the tablet.
The lock screen (displayed after a certain period of inactivity) includes a 'ring' feature in the centre that you either slide to what you want to do/return to, or that you slide things over to in order to activate them. Jason, our resident HTC expert nowadays, tells me this is a standard feature on HTC's Sense interface, which isn't normally seen on the phone version. It lets you go directly to what you want to do (email vs. apps vs. camera) but I guess I just prefer the simple swipe to open up the screen.
Rogers does a pretty good job of keeping the bloatware to a minimum. For the Jetstream, the only additions were urMusic (Rogers' version of iTunes), MyAccount for Android where you can see the current status of your account (data and voice usage, etc.), Rogers On Demand Online (video On Demand, for those who use Rogers as their cable provider), Macleans magazine, Sportsnet and something called Gameloft, which is a selection of downloadable games.
Keyboard
When text input is required, the Jetstream pops up a 'soft' keyboard display which essentially takes up the lower half of the screen. It's the typical QWERTY keyboard layout, with good sized buttons which seem to be pretty close to the size of a regular keyboard (if not even a little bit bigger). Unfortunately, because the screen is capacitive, you can't really 'rest' your hands on or over the screen as you would if you were trained as a touch typist, since that will activate the keys. (Yes, being an old codger, I was taught to touch-type in high school, which meant gently resting your fingers on the middle row. I think if I ever get a tablet, an accessory keyboard will be shortly following.) Instead, it seems you need to adopt a multi-finger version of the hunt-and-peck method.
Generally input went quickly and accurately, but I wouldn't be comfortable typing a lengthy letter (or review!) using the soft keyboard.
Browser
As this is an Android implementation, one would expect that the latest version of Google's Chrome browser is installed. I didn't get a chance to actually determine the version of the browser installed, but I would imagine Google would update it online as necessary. It seemed to do fine with most websites, although I did find there was a bit of 'lag' and waiting time as pages were loaded. This happened even while I was connected to my home wi-fi network, which doesn't normally show any lag when using laptops or desktops. There were also times when YouTube videos needed to stop and buffer input for a few seconds before they would resume.
I also had difficulty with some sites continuing to download content as if I was running a mobile browser (such as those found on smartphones), even though I was on the tablet. I guess it was some browser setting I didn't get quite right.
Speed Readings
OK, so this is the part I'm sure many of our readers have been looking for. How did the unit perform on an LTE network compared to the more ubiquitous 3G and H networks available?
To run these tests, I used the SpeedTest.net website running over the browser directly on the Jetstream. There was a bit of a problem at the beginning since the website was selecting ISPs just outside of Toronto, Ontario and I was sitting on the west coast! I'm not exactly sure what 'location' information was being used at this point, but with some fiddling, I was able to get it to select sites a little closer to home -- Washington State.
The first test was with the Jetstream connected to my home WiFi via a 'g' connection. It should be noted that generally, Wi-Fi in my home isn't the greatest for speed/throughput since I have central heating and the signal has to travel through various ducts and electrical systems between floors to get to most of the computers. We ran the tests a couple of times to ensure we got 'stable' readings and the average was a Download of 6.69 Mbs and Upload of 0.47Mbs.
Next, we turned off the Wi-Fi and utilized the cellular network. Victoria has very good 3G and H coverage and in my home I normally get 4 bars and an 'H' showing on my phones. On the Jetstream though, the display showed '4G'. I thought that was a bit optimistic, since even with LTE we're not quite 4G technically, but apparently this is being interpreted as H+. In any case, using the 4G network connection, the Jetstream achieved Download of 4.68 Mbs and Upload of 1.03 Mbs. It was interesting the lack of huge difference between my home Wi-Fi and the 4G network (except on upload!).
To test the full capability of the Jetstream on an LTE network, I took the tablet with me to Vancouver. I set up the tablet at my cubicle and saw that the connection icon at the bottom indeed showed 'LTE'. Running the Speedtest.net tests again, the Jetstream got Download of 5.38 Mbs and Upload of 5.00 Mbs. This was surprising, as I was expecting significally better download results than with the 3G/4G network, and at least equal or better than my home Wi-Fi network, but it was good to see a better balance of download and upload capacity. In general use while in Vancouver, I didn't really notice any huge increase in speed or throughput over the Internet. Admittedly I'm not big into video streaming of full-length movies or TV shows, but my experience didn't show me a great advantage to having an LTE connection over what I see with 3G/4G. Yes, things were a little faster, but not enough to make me go 'WOW'.
---