Monday, August 30, 2010
Posted by Jason Dunn in "Laptop Thoughts Accessories" @ 07:00 AM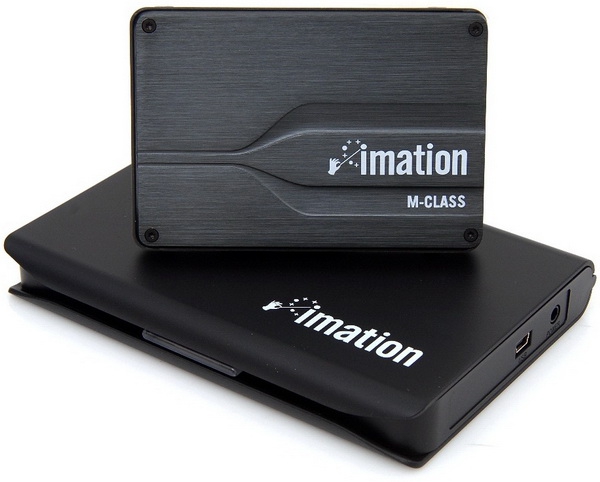 Product Category: Solid State Hard Drive (SSD)
Where to Buy: NewEgg
Price: $339.99 USD
System Requirements: 2.5" drive bay, SATA connector
Specifications: Sequential Read (230 MB/s), Sequential Write (170 MB/s), Sequential Write IOPS (6500), Sequential Read IOPS (22,000), Interface (SATA II 3.0 Gbps), Transmission Mode (PIO Mode 0-4, DMA Mode 0-2, Ultra DMA Mode 0-6).
Pros:
Complete kit allows you to easily re-use your old hard drive;
A great solution for thin and light laptops where hard drive vibration and heat is an issue;
Five year warranty.
Cons:
It's about $80 more expensive compared to other drives on the market of this size and speed;
No TRIM support yet;
Acronis drive cloning software can be hit or miss.
Summary: In the past couple of years, it seems like everyone is getting into the SSD game; it's like a classic gold rush, where the playing fields are levelled and new players, previously uninvolved in the storage field, can carve out territory for themselves by licensing or building the right technology. Imation is one such company; they're a brand I'd typically associate with blank discs and USB Flash drives, but after meeting with one of their representatives at CES 2010, I was intrigued by their SSD offering and wanted to see what .
Imation's SSD Offering: What You Get in the Box
Imation has two classes of SSDs: their M-Class drives, and their S-Class drives. The M-Class drives are available in 32GB, 64GB, and 128GB sizes in both 2.5 inch and 3.5 inch varieties. According to the Imation, the M-Class drive is rated for 230 MB/s sequential read speeds, and 170 MB/s sequential write speeds. The S-Class drives have lower performance ratings, making them the more "budget" offering, if such a word can be applied to the still-expensive world of SSDs.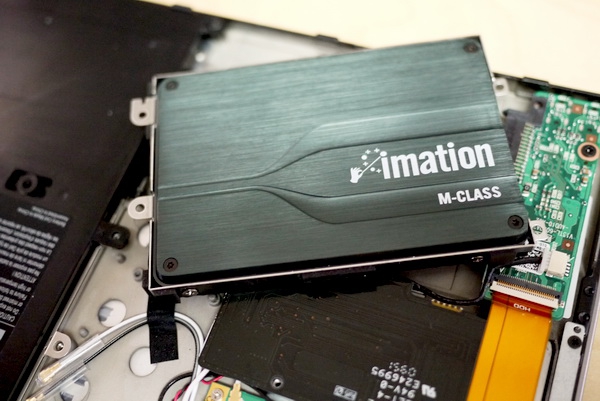 Figure 1: Nice looking drive, isn't it?
The M-Class drives come in a kit designed for laptop upgrades; in the box you get the SSD, a small 2.5" USB 2.0 enclosure, a USB cable, and software used to clone your current hard drive to the SSD. The idea is, you clone the hard drive to the SSD, you then shut down the computer, install the SSD, and put the old 2.5" hard drive into the enclosure and use it as a backup or for extra storage. Not a bad idea, right? In theory, it should work nicely - but in practice, implementing this hardware took some extra effort.
It's also worth noting that some laptops are easy to upgrade the hard drive on - there's a panel on the bottom, you undo a few screws, and you're swapping out the drive. It takes a certain type of person to be willing to do this, but it's not hard. Other laptops, however, require significantly more effort. You'll want to make sure you can get at the hard drive on your laptop before you go this route, because sometimes it can be quite difficult.
Installing the Imation SSD
First I tried it on my Dell Vostro V13. I booted from an external HP Blu-ray drive using the Acronis TrueImage HD disc. Unfortunately, after several minutes of staring at the loading screen, I saw this message: "Unable to load initial ramdisk. Press to proceed." Unfortunately after pressing Enter, nothing happened. I've been using Acronis TrueImage software for about five years now, and while I'm generally a big fan of it (I always upgrade) it's hit or miss on some hardware. Sometimes it simply doesn't work.
I tried the process again using my Dell XPS M1330, and it failed. The Acronis software was able to boot, but it was unable to see the SSD and couldn't start the drive cloning process. I tried to use the "Add a Disk" function in the Acronis software, but it couldn't see the drive. At this point I was starting to wonder if I'd been given defective hardware, so I removed the Imation SSD from the enclosure and connected it to an external drive dock via eSATA. My computer detected the SSD, so I formatted the drive, and did some write tests on it - it was nice and fast. So if the drive was working, what about the enclosure? I connected the Imation enclosure to my computer over USB 2.0, and it was recognized immediately and worked fine. Puzzled, I tried the entire process again with the a Dell Mini 10. Amazingly, it worked! I did some troubleshooting and ended up swapping out the USB cable and kept going.
I tried it on my Dell Vostro V13 next, and was pleasantly surprised to find that it worked this time. Was it a bad USB cable? If so, how did it work on the Dell Mini 10? I have no idea, but I wasn't going to taunt fate, so I proceeded with the drive cloning on my Dell Vostro V13. I didn't time how long it took to clone my hard drive to the SSD, but it went fairly quickly. After the cloning process, I cracked open my Vostro V13 (Figure 1) - which involved quite a few screws and some mild force to get the shell off - and swapped out the drives. The V13 booted up from the SSD without a problem, and after the install, I had 40.7 GB free. It's weird having to manage hard drive space again like it's 2003, but that comes with the territory when SSDs are involved.
---